Quest for Success
™
---
$59,900,000 in Scholarships
in the Last Five Years Alone
Quest Encourages Students to Take Charge of Their Future. We are a nonprofit organization, delivering high school students the skills to access the perfect college experience while assisting them in finding financial support for their education. The result is a lifetime of achievement and economic freedom.
---

"I think about all of the important experiences I've had along my journey and I know Quest was absolutely an integral step along the way. In fact, I don't think I'd be here without you!"
—Brittany B.
We Are Quest
We pride ourselves in the environment we've created for our students. Each year, hundreds of aspiring minds gather at Quest to share their experiences, thoughts and collectively prepare for the obstacles and victories to come.
LEARN MORE
If Quest sounds right for you or your child, we encourage you to click the button below to find out more. This is the first step in the journey to become a Quest student.
ENROLL NOW
Our team and board members consist of passionate and talented leaders within the community, all dedicated to providing Southwest Florida's youth with the skills and knowledge to build their best possible futures.
LEARN MORE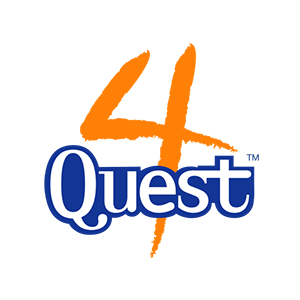 Get Your Degree and Be Free
Students, by earning your college diploma in 4 years (or less), you're setting yourself up for a more successful future, saving and earning more money than those who don't.
Take the Pledge
Quest in the Community
Proudly Committed to Serving Others. Over the years, we've formed an abundance of meaningful relationships in our community, helping us ensure a long and sustainable future. Quest believes in "paying it forward," encouraging our students to give back and become responsible members of our great community.
LEARN MORE