In depth SAT/ACT preparation
Assistance in choosing the college that is best for each student
Ensuring a high school curriculum that will create competitive college applicants
In depth work in writing an outstanding college essay
One-on-one assistance in applying for scholarships and financial aid
Personalized direction in choosing a college major/career path
---
What Quest Offers
A Clear Path to Success, for Every Year of High School.
We work with students throughout their high school careers in order to assist them in achieving their highest level of success. We advise our students in academics, character development, goal setting, personal planning and time management, as well as specialty workshops and tutoring to hone reading, writing, mathematics and test taking skills.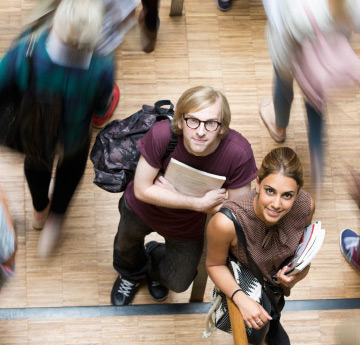 Freshman and Sophomore Years
Realize the "6 Most Important Decisions You'll Ever Make."
Develop effective strategies for personal and academic success through the "7 Habits."
Sharpen your time management and organizational skills.
Discover your passion — turn what you like to do into a college major/career.
Choose the right courses — should you take Honors, Advanced Placement, AICE courses, or Dual-Enrollment?
What types of courses do colleges prefer?
Establish Community Service relationships and "Pay it Forward!"
Junior and Senior Year
Interactive, comprehensive SAT/ACT Test Prep skills

Which test is best?
When and how often should you take the test?
Should you also take the SAT II Subject Tests?

Excel at writing exemplary college admissions and scholarship essays.
Research and discover which colleges are best for you, academically & financially.
Fine-tune what's needed and when it's needed as you submit your college applications.
Personal access to college admissions officers from competitive colleges.
Secure the most financial aid and scholarship awards to the right college for you.
*The latest students may begin their participation in Quest is summer prior to their junior year.
---
What Our Students Are Saying
Coast-to-Coast Achievement
Click to see some of the colleges our students have attended.
The Proof is in the Degree
We feel the best way to offer a future of unbridled achievement is to deliver each student with a wide range of educational choices. At Quest, you will have the ability to choose from an abundance of schools, and from there, decide the one best-suited to your academic, financial and social needs.
Each year our students receive an abundance of scholarships, financial aid, grants and much more from multiple colleges and community organizations. These allow you the choice and competitive edge needed to have an optimum college experience.
QUEST SENIORS IN 2018 AVERAGED
over $27 million
IN SCHOLARSHIP OFFERS
QUEST SENIORS IN 2017 AVERAGED
$16.2 million
IN SCHOLARSHIP OFFERS
QUEST SENIORS IN 2016 AVERAGED
$15
million
IN SCHOLARSHIP OFFERS
Personalized Attention from the Nation's Best Institutions
At Quest, you will have the rare opportunity to speak with counselors from top schools from across the country. This will allow you to ask important questions and learn vital information in determining which school is best for you.
Colleges Visiting Quest
CALIFORNIA
University of California Berkeley
COLORADO
United States Air Force Academy
DISTRICT OF COLUMBIA
American University
FLORIDA
New College
Florida Southern
Eckerd College
GEORGIA
Emory University
MAINE
Bowdoin College
MARYLAND
United State Naval Academy
MASSACHUSETTS
Boston University
Northeastern University
Tufts University
MICHIGAN
Hope College
MINNESOTA
Carleton College
MISSOURI
Washington University in St. Louis
NEW YORK
Columbia University
United States Military Academy

NORTH CAROLINA
Davidson College
Elon University
High Point University
Salem College
OHIO
Kenyon College
Oberlin College
Ohio Wesleyan University
PENNSYLVANIA
Allegheny College
Franklin and Marshall College
Haverford College
Lehigh University
Swarthmore College
Ursinus College

SOUTH CAROLINA
College of Charleston
Furman University
RHODE ISLAND
Roger Williams University
TEXAS
Rice University
Southern Methodist University
VIRGINIA
University of Richmond

Colleges Quest Has Visited
CALIFORNIA
Stanford University
University of California, Davis
COLORADO
University of Colorado Boulder
DISTRICT OF COLUMBIA
American University
Georgetown University
George Washington University
FLORIDA
University of Florida
Florida State University
University Christian School
University of South Florida
New College
Florida Atlantic University
University of North Florida
University of Central Florida
Florida International University
Florida Gulf Coast University
Stetson University
Florida Southern College
University of Miami
Barry University
Lynn University
Eckerd College
Flagler College
Florida Institute of Technology
Ringling School of Art and Design
University of Tampa
GEORGIA
Emory University
Georgia Institute of Technology
INDIANA
Rose-Hulman Institute of Technology
IOWA
University of Iowa
MAINE
Bates College
Bowdoin College
Colby College
Maine Maritime Academy
MARYLAND
University of Maryland
Johns Hopkins University
MASSACHUSETTS
Amherst College
Boston University
Emerson College
Northeastern University
Tufts University
Williams College
MINNESOTA
Carleton College
Macalester College
St. Olaf College
MISSOURI
St. Louis University
Washington University in St. Louis
NEW JERSEY
Princeton
NEW MEXICO
St. John's College
NEW YORK
Columbia University
Cornell University
Ithaca College
Rensselaer Polytechnic Institute
NORTH CAROLINA
Davidson College
Duke University
Elon University
Guilford College
High Point University
Salem College
Wake Forest University
PENNSYLVANIA
Bryn Mawr College
Dickinson College
Drexel University
Franklin and Marshall College
Gettysburg College
Grove City College
Haverford College
Lehigh University
The Pennsylvania State University
Swarthmore College
University of Pennsylvania
Ursinus College
Villanova University
SOUTH CAROLINA
College of Charleston
Furman University
TEXAS
Rice University
VIRGINIA
The College of William and Mary
George Mason University
Sweet Briar College
University of Richmond
Virginia Polytechnic institute and State University
Washington and Lee University

"Thank you for all your help preparing our daughter for college. We don't know what we would have done without you. The Quest team rocks!"
—Karen W.