#NACACreads: There Is Life After College
What comes next?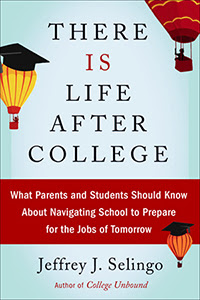 America's young people are increasingly struggling with that question — a new reality we'll discuss Aug. 23 during a #NACACreads discussion of There Is Life After College.
"While college-going rates are at historical highs — nearly 70 percent of new high school graduates go right on to college the following fall — the transition to what's next in their lives isn't as seamless for most of them," author Jeffrey Selingo wrote in a recent Journal of College Admission article.
Join colleagues from across the country to discuss how counselors and colleges can help students prepare for a job market that's fast-changing and ever-evolving.
The discussion will kick off at 9 p.m. (ET). Selingo, a featured speaker at NACAC's upcoming national conference, will participate in the Twitter chat.
Already finished the book? Help shape the discussion. Submit questions ahead of time via Twitter using the #NACACreads hashtag.
Interested in attending NACAC's National Conference in Columbus, Ohio? Register now!