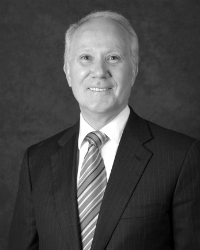 Edward A. Morton
Former CEO of NCH; Managing Director of Wasmer, Schroeder & Company
Edward Morton joined Wasmer, Schroeder & Company as Managing Director in January 2007. Mr. Morton is responsible for strategic planning and business development. Mr. Morton has over 40 years of experience in the executive and financial fields. After serving his country as a Captain in the U.S. Army during the Vietnam war, in 1972 Mr. Morton began his career in finance with the NCH Healthcare System where he retired in 2006. During his tenure at NCH, Mr. Morton held the positions of Chief Financial Officer, Chief Operating Officer, and for the last six years of his career, Chief Executive Officer.
Through Mr. Morton's leadership, NCH's net‐worth doubled from $137.8 million in 2000 to $275.5 million in 2006, during which time NCH achieved several highly recognized awards: the top 5% of all healthcare organizations in the U.S. (2004, 2005, 2006); the top 100 status of all healthcare organizations in the U.S. for overall performance improvement over the past five years (ending in 2006); multiple awards for NCH cardiac programs, including Code Save A Heart; and acquired the area's first CyberKnife, daVinci Surgical System robot and Pet/CT scanner technology.
Mr. Morton holds a B.A. in Accounting from the University of Notre Dame, an M.B.A. from the University of Miami and an M.S. in Health Science from Florida Gulf Coast University. He is Director of the Leadership Collier Foundation; Director of the Greater Naples Area Chamber of Commerce; Trustee of the Youth Development Foundation (Quest); Trustee of the Moorings Park Institute; Director Encore Health; Trustee of the Healthcare Network of Southwest Florida Foundation; Community Board Member of the Lee Memorial Health System, and most recently appointed to the Board of Governors of the State of Florida University System by Governor Rick Scott.
BACK